Female Project Coordinator - WASH Engineer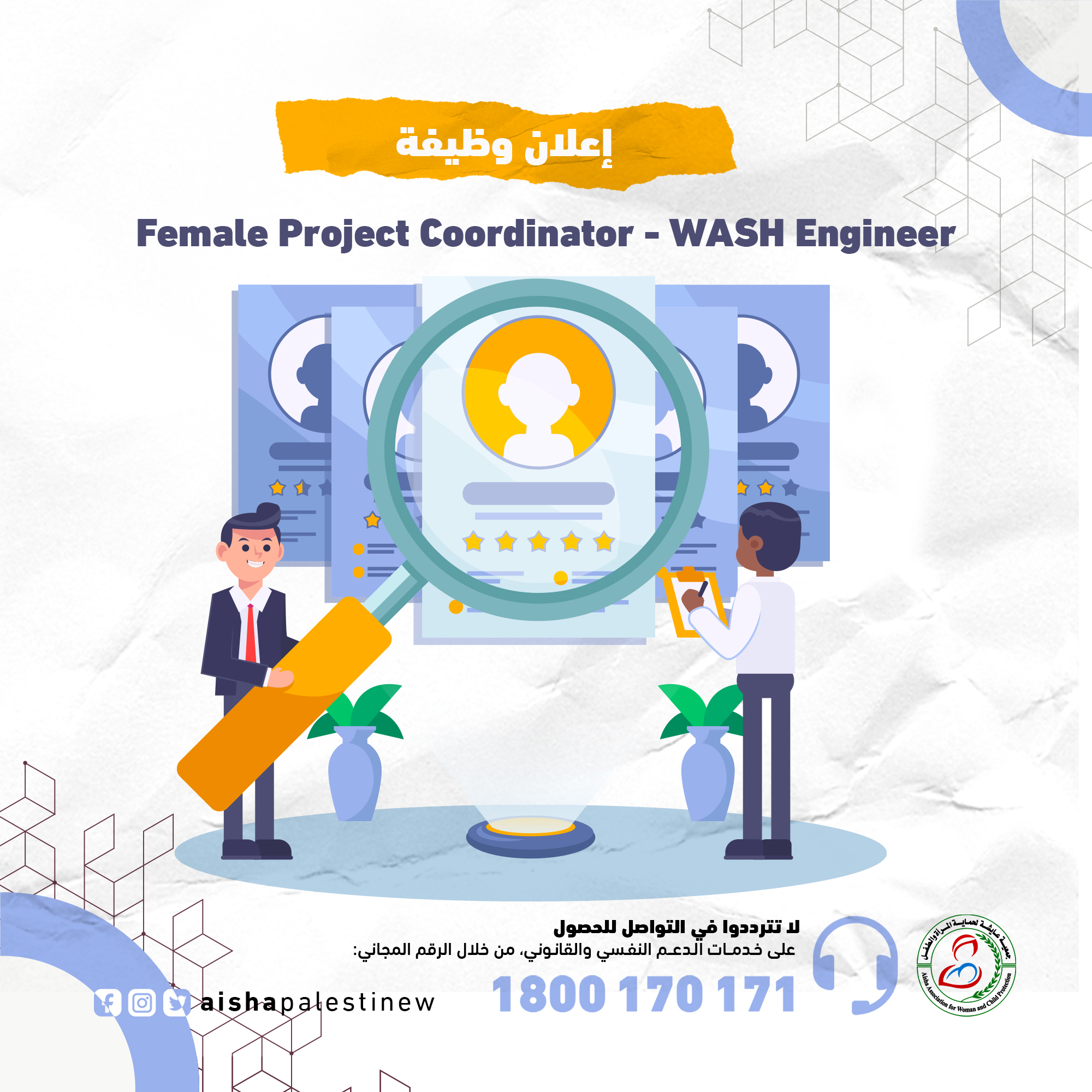 Female Project Coordinator - WASH Engineer
Gender: #Female
Location: #Gaza Strip
AISHA is an independent, non-profit Palestinian NGO promoting gender justice, protection and empowerment of women, children and adolescents, survivors of gender-based violence, addicts and people with disabilities, through community service programs for mental health and substance abuse.
Currently, AISHA has been working on implementing a project of "Improving access to safe, dignified, and integrated shelter and WASH services for acutely vulnerable women heads of households in the hotspot communities across Gaza Strip" AISHA is seeking competent and highly qualified WASH engineers to work in its office in Gaza.
The project will improve WASH facilities in women-headed households across Gaza strip that are related to the poor access to safe and equitable WASH services.
The main tasks and responsibilities include:
Follow up the project field activities (construction/maintenance of WASH facilities) and ensure compliance with the quality and accountability standards

.

Conduct filed assessment addressing the living conditions and related protection concerns of vulnerable families in different geographical areas all over the Gaza Strip

.

Conduct technical assessment for the needed maintenance/rehabilitation works

.

Elaborate tender's documents including the BoQ's and technical specifications

.

Provide individual training to each beneficiary to provide technical guidance specific to the works they need to implement in their shelter

.

Conduct daily site supervision for the construction and maintenance works to ensure compliance with agreed specifications

.

Ensure well documentation of the site activities (maintenance/rehabilitation activities)

.

Prepare weekly and monthly reports on the progress of the field activities

.

Perform any other related tasks required by the direct supervisor

.
Essential Experiences and Competencies:
At least 5 years of experience in construction management

.

At least 3 years of experience in similar projects (WASH projects)

.

Experience in working within the NGO sector

.

Organized, reliable attention to details and ability to work independently when needed

.

Excellent communication skills and inter-personal skills, and the ability to establish and maintain effective working relationships with colleagues, partners and donors

.

Ability to work under pressure, meet deadlines, prioritize workload and multi-task

.

Mature work practices, highly motivated and demonstrate sound judgment

.

Good reporting skills in both English & Arabic

.

Advanced computer literacy

.

Integrity and strong identification with AISHA Core Values

.
Education and Knowledge:
At minimum, a Bachelor's degree in civil or architectural engineering

.

Knowledgeable about the Minimum WASH and Shelter Standards

.

Knowledgeable about the protection principles

.
Candidates with experience in the mentioned fields are encouraged to apply for this position, Cover letter and curriculum vitae in English are required.
How to Apply:
For those who are interested in applying. Please, visit http://hr.aisha.ps/public/4/applicants and choose "Female Project Coordinator - WASH Engineer" position and fill the application no later than 23/10/2022.
تاريخ بداية الاعلان : 2022-10-19
تاريخ نهاية الأعلان : 2022-10-23