إعلان وظيفة محاسب/ة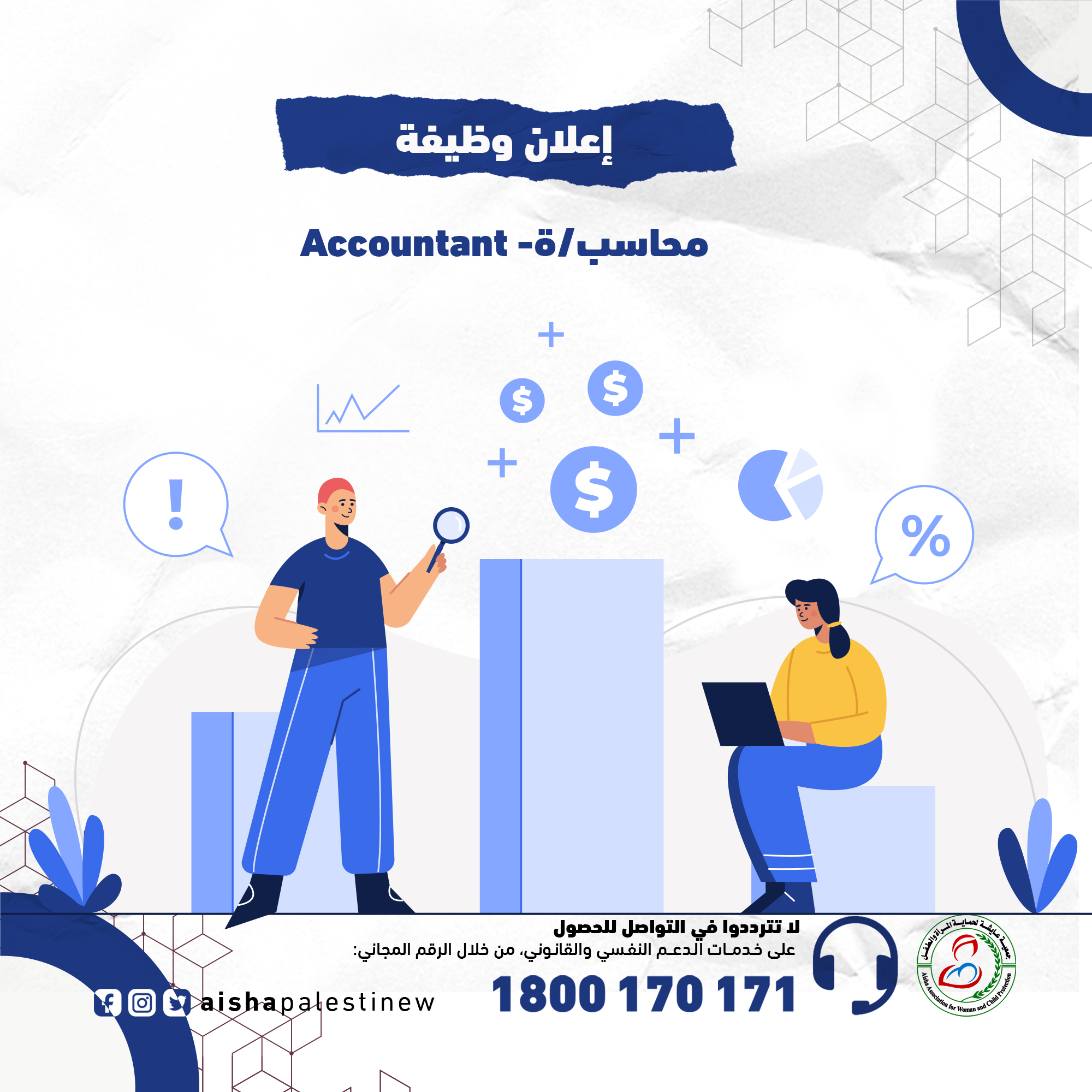 Accountant
AISHA Association for Women and Child Protection (AISHA), established in 2009, is an independent Palestinian women organization working to achieve gender integration through economic empowerment and psychosocial support to marginalized groups in the Gaza Strip with focus on Gaza City and the North area. AISHA seeks to protect women and children from violence through supporting, empowering, and raising awareness of important psychological, social, legal, and economic issues.
AISHA will implement several projects in partnership with INGOs in more than one field, Thus, AISHA intends to hire a Full-time accountant based on the availability of funding.
Job Title: Accountant
Program/ Unit: Finance
Reporting Line: Finance Manager
Location: Gaza City
Key Responsibilities:
Prepares account entries by compiling and analyzing account information.
Documents financial transactions by entering account information.
Summarizes current financial status by collecting information; preparing balance sheet, profit and loss statement, and other reports.
Maintains financial security by following internal controls.
Prepares payments by verifying documentation, and requesting disbursements.
Ensure that accounting filing systems are maintained and up to date
Ensure protection and security of files and records
Ensure effective transfer of files and records
Maintain fixed asset files.
Receiving the payments from the offices by mail, stamping them, and registering them
Review documentation and payments, prepare cheques and transfers, get them signed by the authorized persons, and insert a copy with the payment.
Enter all payments & allocations in the accounting system
Follow up with vendors on cheques to get receipts.
Send original cheques to the offices and follow up to get receipts and other documents back.
Send bank transfers, get the slips, and attach them to the payments, install them in the accounting system, and file them.
Qualification and Experience:
Bachelor's degree in accounting from an accredited university.
At least 2 years' relevant experience in non-profit organizations national and international.
Ability to maintain a high level of accuracy in preparing and entering information.
Ability to maintain strict confidentiality with regard to financial information.
Excellent English and Arabic competences.
Ability to clearly articulate ideas and thoughts verbally and in writing.
Accurately prepares written correspondence that is coherent, grammatically correct, effective, and professional across languages.
Listens to others and accepts input from team members.
Presents to volunteers, staff and donors professionally.
Others:
Proficiency in Microsoft Office.
Appreciation of and dedication to the cause of PCRF
Attention to Detail
Deadline-Oriented
Confidentiality
Time Management
Data Entry Management
General Math Skills
Outstanding interpersonal skills
Displays a positive attitude
Demonstrates flexibility in day-to-day work
Sets high standards of performance for oneself
Teamwork
Establishes harmonious working relationships with team members.
Shows initiative in interacting with and collaborating with team members on projects and organization activities
Use every opportunity to learn from team members
For those who are interested in applying. Please, visit http://hr.aisha.ps/public/4/applicants and choose "Accountant" and fill the application no later than 23/10/2022.
تاريخ بداية الاعلان : 2022-10-19
تاريخ نهاية الأعلان : 2022-10-23