Theatrical Performance titled "The Mercy Bullet"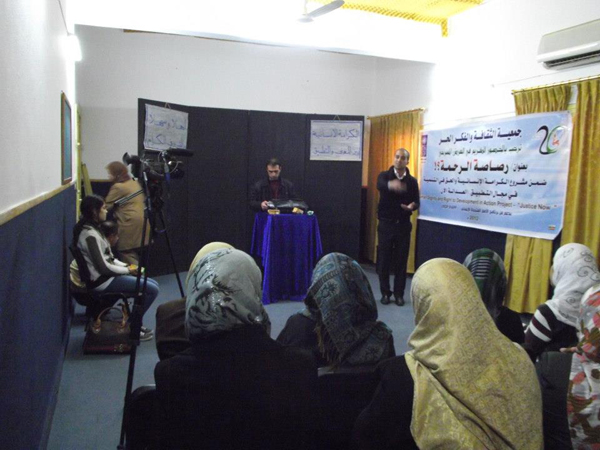 Funded by United Nations Development Program, Aisha Association for woman and child protection received on 12 Dec ,2012 the "The Mercy Bullet" theatrical performance which was presented by Culture and Free Thought Association through " The Human Dignity and Right in Development and Justice Practice" project activities.
"The Mercy Bullet" show Was depicted the Palestinian people suffering and violations practiced against them, a lot of social and legal issues such as older rights , psychological, physical and oral violence based on gender practiced against woman either implicitly and explicitly , the Palestinian detainees captivated by occupation, providing them with necessary health and social care and protecting them from torture and dignity insulting as agreed by the international conventions and agreements relative to the treatment of war prisoners , and social responsibility towards them, and many economical issues such as unemployment and its effects on community .
The theatrical Performance also spotlighted a lot of human rights as agreed by intentional norms and conventions like woman rights access to education and work, the rights of spouses, the consequences of depriving women of such rights practicing, even depriving salary of the worker woman by spouse, leaving her home alone for late hour in night, and addicting to drugs like Tramadol and nicotine.
The show was met with applause by the audience which considered was an effective way to deliver a message and embody the concept of human dignity.
Eventually an open discussion was opened to discuss these issues which were clarified by the theatrical performance presenters.