the day 11 of the training course entitled "Case management of substance abuse and abuse"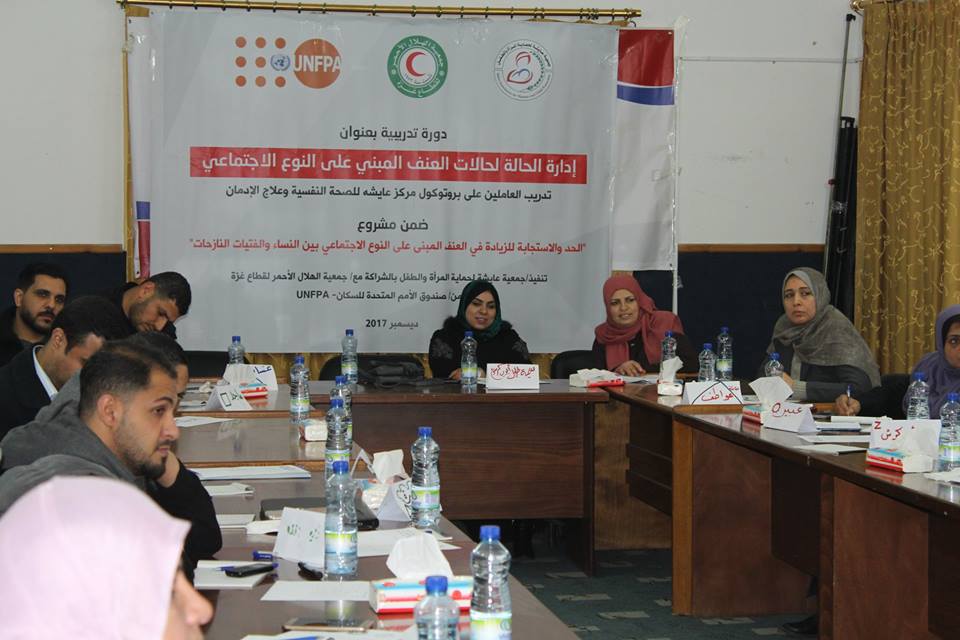 Aisha Association for Woman and Child protection opened the second phase of the training of workers of the "Aisha Community Center for Mental Health and Addiction Treatment" recently with the cooperation of the Red Crescent Society of the Gaza Strip and funded by the United Nations Population Fund (UNFPA) within the project "End violence against Displaced women in the Gaza Strip" ".
The training lasted 10 days with a total of 50 training hours with the participation of 20 social workers and psychologists working in Aisha, Palestine Center for Psychological Trauma, Palestinian Center for Conflict Resolution, Ministry of Health, Ministry of Interior, Safety House and Palestinian Consolidated Appeal. Mustafa Al-Masri, a psychologist, at the headquarters of Aisha Society for the Protection of Women and Children conducted the training ..
At the beginning, participants reviewed the previously studied case management of cases of gender-based violence and substance abuse and how they benefited from the first Phase and their proposals for the coming period.
The course consisted of a number of topics, including the second part on psychological health, mental illness, interventions for substance misuse, motivational interview, problem solving, family therapy, self-care training, and issues related to application.
It is worth mentioning that the training is designed to enable participants to implement the Protocol on Psychological Interventions, which aims to provide initial psychosocial support to women and girls